Oom Yung Doe Association of Florida Inc. recognizes the founder and operator of ?The Mustard Seed,? Carol Kane as the 2006 recipient of the Distinguished Citizen Award.
Ms. Carol Kane?s grandmother told her that she could do anything in life, if she had the faith of the little mustard seed. Ms. Carol Kane brought that faith of the mustard seed with her when she came to Central Florida 25+ years ago, relocating with her five children after the death of her husband.
In 1984, Ms. Carol Kane acted on her faith and commitment to helping others. She began out of her garage, collecting items so that she could help one family per month. In 1988, she established The Mustard Seed as a nonprofit organization and steadily built an army of volunteers and a community of support. Today, The Mustard Seed helps nearly 1,500 Central Florida individuals and families per year, all through community donations. Annually, furniture, household goods, and clothing valued in excess of two million dollars are collected and distributed to disadvantaged citizens who desperately need them.
In a decade of community service, Ms. Carol Kane and the faith of the little mustard seed have given new beginnings to 20,000+ area disadvantaged.
In January of 2007 tornados hit central Florida causing millions of dollars in damage and took several lives. Ms. Carol Kane and her organization are actively assisting those in need.
The Award was presented to her at the Amway Center, down town Orlando were her organization was hard at work assisting those in need.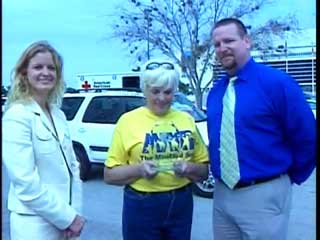 The Mustard Seed of Central Florida Website
(Click here to learn more, donate and become a volunteer)