Oom Yung Doe Association of Florida Inc. participated in the ?Florida Apartment Association, (F.A.A.) Education Conference and Trade Show in 2005 and 2006. This educational conference and trade show is to keep those involved with the apartment community current within their field in products and training.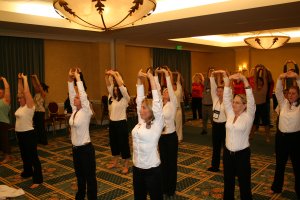 The F.A.A. knows the benefit of educating personnel in safety and self-defense skills, Tai Chi and meditation exercises. The class was held on the last day of the conference, where participants were attending two full days of educational classes and were ready to relief their stressors.
The class started with the application of topical herb and warm-up exercises.
The class held over 60 professionals ranging from mid twenties to sixties. After the thirty minutes of Tai Chi movement and ten minutes of meditation several comments about what they experienced where mentioned.
? This is the best I felt all weekend, Now I?m ready for a good night sleep, I feel so peaceful and I can?t believe how good I feel.?
One participant mentioned about the topical herb.
She listened to me explain how the topical herb relaxes the muscles to allow you to gain more benefit from your training. She knew her knee was going to give her an issue from past experiences, so, without me knowing, she decided to put the herb on and around her knee. She commented after the lesson; ? My knee always gives me trouble when I exercise. I didn?t know if I was supposed too, but I put the herb on my knee and it feels great.?
It?s our hope to apply the morals of Chung Doe (correct path) to our lives and to follow the principles of honor, integrity, loyalty and compassion above all else. It is also our hope that our community is a better place to live because of our efforts.