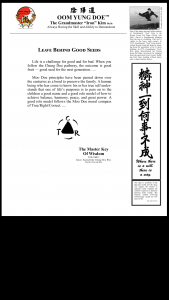 Leave Behind Good Seeds Life is a challenge for good and for bad. When you follow the Chung Doe pathway, the outcome is good fruit — good seed for the next generation….. Moo Doe principles have been passed down over the centuries as a bond to preserve the family. A human being who has come to know his or her true self under- stands that one of life's purposes is to pass on to the children a good name and a good role model of how to achieve balance, harmony, peace, and great power. A good role model follows the Moo Doe moral compass of True/Right/Correct.
The Life of Moo Doe Practitioners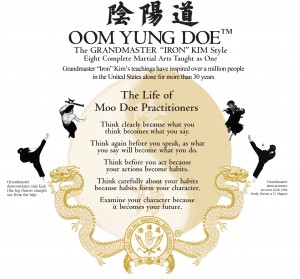 Excerpt from The Master Key of Wisdom, Volume 1, Know Yourself the Chung Doe Way by Charles Won-suk Kim and Grandmaster Iron Kim, 2007.
"TO LIVE IS TO LEARN; TO give is to earn." Each moment of your life is a moment of ultimate choice.
Life is a never-ending challenge for good and for bad. Vested in you and each human being is the ability to choose the one or the other.
The good pathway is Chung Doe, leading to greater harmony, balance, integrity, peace, joy, trust, honor, togetherness and light.
Travelers on the Ching Doe pathway have a clear vision of the future.
They follow the straight course of principal and honor in their climb toward In Gan, the highest form of humanness.
That is the ultimate objective.